The Owl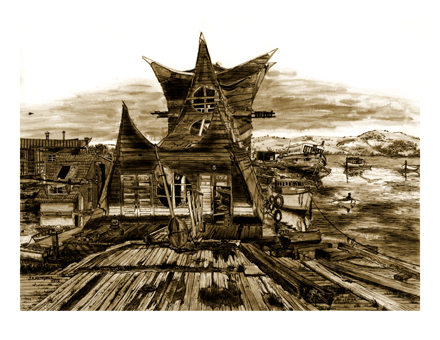 1972 = The Owl

This was a view I did of the Owl from the back deck of the old San Rafael ferry right in front of the gang plank leading to the entrance to Shel Silverstein's floating home the Evil Eye. This prominent curved structure, with its horned wooden tower and wide eyed windows, was designed and built by Chris Roberts who was somewhat of an architectural genius. At the time I created this scene Chris was living on board while working on the structure in his own unique way. This master craftsman created two other incredible floating structures near the Owl in the same immediate area. One of these was the Evil Eye, which I recently mentioned, just off this scene to the right, owned since 1967 by the legendary author, singer / songwriter Shel Silverstein. Chris designed and built Shel's unusual houseboat atop a World War II Navy balloon barge. Re-imagined as a private floating home this barge originally had lofted cables that were designed to snare kamikaze aircraft. Right across from Shel's boat, also off to the right, was Chris Robert's masterpiece the Madonna. A truly magical place to enter, the Madonna gave one the unforgettable feeling that you were entering a location that might be found in Alice and Wonderland. With its stained glass windows casting beautiful colored light on the interior you immediately had the sense that you had somehow magically shrunk to a miniature size upon entering. Everything inside was oversized. You actually had to climb up into one of the tall chairs in order to sit at the massive bar within. Sitting in the Madonna on a huge chair and feeling like a small child surrounded by colored light is a feeling I will always remember.

You would be hard pressed to find three structures (that close to one another anywhere) that looked as creative or unusual as this trio designed by the visionary Roberts. The legendary collage artist Jean Varda, who lived on the Vallejo ferry with Alan Watts back in the '60s' & early '70s' , said that Chris Roberts was his favorite aspiring artist who had an enormous amount of potential. Roberts took very thin flexible siding and shaped it into fantastic sculptures that could be lived in. The "Madonna and Child" was built around a 70 foot high pile driver. Roberts wrapped the frame with material and created a whimsical series of arches and three dimensional curves. Although technically it was not a houseboat, this sculpture had platforms inside that could be used to sleep on. From time to time Chris slept there or allowed people to crash there for an unforgettable experience.

After creating the Madonna Roberts went on to build the Owl, using many of the same curved lines he was known for. I met Chris while I was working on location on my scene "Behind the San Rafael." At the time Chris was living on the Owl as he continued to work on it. For me, this was THE most favorite of all my locations to work from at Waldo Point as I created my Master's project for San Francisco State College. At the time I was creating my original "sepia pen & ink wash drawing" at this incredible location I would often hear Chris hammering a board into place on his unique home. After leaving the community in 1978 and not returning for thirty years I was surprised in 2008 to discover that the Owl was still there. It had been restored and was now apparently a floating home again - now for a doctor and his family. The Owl is featured on the cover of the book " Houseboats " The Aquatic History of Sausalito. If you ever find yourself in Sausalito the houseboat community, and the Owl which has been there since the '60s', is certainly worth checking out along with the modern floating structures.



Prints & Pricing
Please contact artist John A. Kendall if you would like a custom size: jakendall@kendallink.com or 603-763-3295.